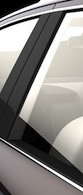 A common request is to tint car windows with a silver tint. Many people like the look of silver car tint. While it is not typically recommended, there are ways to have it done or do it yourself. Before installing silver car tint, be sure to check the law for your state here! You'll have to make sure that film you use does not exceed the maximum reflectivity.
Having Silver Car Tint Installed
The easiest way to get a reflective look on your car is to have it done professionally. Most installers will be able to buy the right type of film, which can sometimes be hard to find. If you read our article about the different types of window tint adhesive, you'll find out that silver films usually only come with a dry adhesive, which will not work on car windows. There are a few manufacturers who DO make silver films with a pressure-sensitive adhesive.
Installing Silver Car Tint Yourself
If you are going to install silver film yourself, be sure you do not buy just any silver film. Again, it will have to have a sticky or pressure-sensitive adhesive for it to adhere properly to your car. If you would like more information about this type of film we suggest that you contact the people at WindowTint.com they are very knowledgable and can provide the resources on how to obtain this type of film for your vehicle..