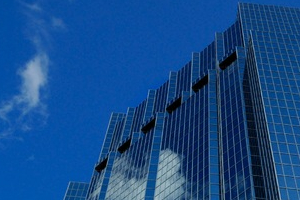 Since there is a very wide selection of window film for glass to choose from, this article will help describe some of the most popular types for commercial windows. You can choose to have these installed by professionals or even install them yourself. This list of commercial film for glass has some of the most popular types at the lowest prices.
Purpose of Commercial Film for Glass
When you see most large commercial buildings, or even smaller ones, they typically require one thing: privacy. Of course light and heat protection are important, but being able to work efficiently without distraction is essential. This is why you always see large high-rise buildings with reflective glass that you cannot see through. You can get this same effect on your own film for glass.
Most Popular Types of Film for Glass
A dual-reflective film, one that is shiny on the outside and neutral on the inside, is a popular choice. They are available in very low VLTs like Premium Dual reflective Window Film that has a 5% variable light transmission (VLT). You can view a list of (Premium Dual Reflective Window Films) with various VLTs.
Because of particular color schemes, a bronze window film is also very popular. Its shiny bronze appearance gives the correct color for the window but also provides privacy.
Frosted Film for Glass
In addition to solar films, frosted films are very common. These will typically be installed on the inside glass of office buildings, such as conference rooms, cubicles, etc. Many times, designs and logos will be cut out of the film to give the interior a sleek, branded look. White frost is the most popular, but frost is available in many other colors as well, including bronze, silver, and grey.